Emergency Stop Control Station for Sol-Ark
An Emergency Stop is defined as a fail-safe control switch or circuit that, when de-energized, will stop the operation of associated equipment and will shut off all potential hazards outside the main power enclosure.

​
Emergency Stop Control Station, 40mm Pull to Release Red Button, yellow enclosure face, 1 normally open, 1 normally closed contact, IP65, UL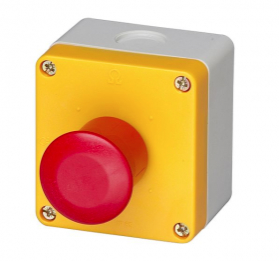 Type:
E-Stop Control Station
Color:
Yellow/Red
Where to buy?

Related Articles

Sol-Ark Inverter Monitoring and Display

The following are the Sol-Ark inverter installation instructions. If you want to access your solar system online, you first need to create a Sol-Ark account, and here is a video tutorial on how to do it. With an account in place, you get the inverter ...

Enphase IQ8 Series Installation and Operations Manual

The Enphase IQ8 Series Installation and Operations manual is attached to this post. This manual serves as a comprehensive guide for the installation and operation of Enphase IQ8 Series products. It provides detailed instructions, guidelines, and ...